T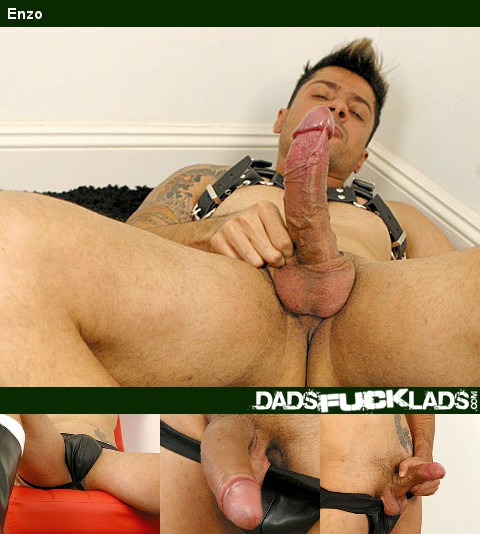 Covered in tats, with a proclivity for leather and all manner of kink, you'll love getting Enzo all to yourself in this horny new solo video. He gets his massive, uncut tool out for some fun - including fleshlight play - bringing himself to an unmissable climax.
Drew and Frank are the ultimate intergenerational pair - and they're fucking kinky. They get into piss play, toys and leather long before this hot daddy is pounding away at the ass of his younger companion. It's a fetish festival of older/younger love you can't miss.
Tom starts lighting up his cigar, while he touch his cock over the leather jock strap. He then goes sit on the chair to start playing with his big nipples while still smoking his cigar. He goes to the floor on his kness and then pulls the cock out of the leather jock strap, you can see a big piercing in the end of his cock head. He starts wanking. He keeps wanking until he comes all over his hairy belly and finishes blowing out the smoke of his cigar for the one last time.


Hung muscle dad Aaron kisses Steven's mouth and licks his socks before taking off his briefs and sucking his 10 inch monster cock. Aaron puts a sock on the cock and wanks while playing with his balls. Aaron ties Steven down to the bed and blindfolds him. He makes Steven suck his cock before Steven sits on the chair and Aaron sits on his cock. Aaron bends over the bed and Steven fucks him doggy style while Aaron smells his sweaty socks. Aaron shoots while being fucked by his lad before Steven cums over daddy, cleaning up the cum with his sock before Aaron licks the sock.
Bryce is wearing a leather harness and black jockstrap. He starts touching himself and oils his body before putting a black dildo up his tight ass while playing with his nipples. Back on the bed he thrusts the dildo deeper up his hole before fingering his ass with three fingers. Working his cock he shoots a huge load of cum over his stomache and eats his cum.

Jake Lewis starts kissing Kieron before some aggresive nipple play. Kieron licks Jake's armpits and sucking his cock, taking it as deep as he can. Jake fucks Kieron with his legs up and then doggy style. They fuck really deep and hard before Kieron rides Jake on a chair and they both shoot their loads.
Joshua starts licking and sucking James' huge 9.5 inch cock. James forces Joshua deep onto his cock. They both 69 before Joshua lays down to take James' cock deep throating all 9.5 inches. Joshua kneels down and takes James' piss over his body. James fingers his ass before fucking Joshua doggy style. Josuha rides James on the chair before they both shoot huge loads.
Rough and dominant dad Ale walks young twink Leo Mack in a dog collar. Ale immediately takes control making him suck his cock really deep, spitting on him and spanking his ass. Leo is forced to lick his armpits before Ale fucks Leo hard and deep before making Leo sit on top. Ale cums on Leo's face before Leo shoots.
Rough dominant Aitor Crash tops cute young bottom twink Leo Mack in this uber hot and dominant scene. Aitor spits on Leo's face and spanks his ass before forcing him to suck his cock. Aitor fucks Leo real hard, forcing him to take his cock deep in his ass before Aitor shoots on Leo's ass.
Hot top Harley Everett makes JP suck his fat cock while spitting on his face. JP gets his cock sucked before Harley fingers his ass and shoves a butt plug inside. Next Harley pushes some anal beads deep inside JP's ass before fucking him deep and hard doggy position. JP rides Harley's cock before they both shoot huge loads of cum
Muscled dad Randy Jones makes out with young lad Ryder Hudson. Ryder sucks Randy's fat cock before they move into 69 to suck each other. Randy fucks Ryder doggy style before moving into deep sandwich fucking. Before they cum Randy fucks his lad on the table
Hairy dad Aaron Cage forces young twink Luke Desmond to suck his cock till he gags. Luke gets his ass rimmed and fingered before Aaron takes some toys to his ass. Starting with a smaller black dildo and moving up to a huge dildo, spreading Luke's ass wide open in preparation. Aaron fucks Luke doggy style before pounding him even harder.
Dad Jason Torres kisses young lad Marco di Lucca. Marco sucks Jason's cock and Jason fingers Marco's ass. Jason rims his ass and fucks him with his legs in the air. They fuck doggy style before Marco rides Jason. Marco shoots, Jason fucks him again and shoots over his ass.
Dad Joey makes out with Lad Kirk before Kirk sucks Joey's cock. Kirk rims his lad's ass and licks his feet before fucking Kirk deep and hard. Kirk rides Joey before they both cum together.
Fran sucks Dillons hard cock before sitting in the sling and shoves a huge dildo up Fran's tight ass. Dillon fucks Fran in the sling before moving to sit in the sling so that Fran sits on top, riding his hard cock. Fran bends over the sling and gets fucked from behind before Fran shoots over his ripped stomache and Dillon shoots on Fran's face.